The wonderful Gina of
Hiya Luv
had this amazing idea for a blog party of sorts... Take Your Blogger to Work Day, where all of us bloggers can "get together" and share what it is we do for a living (and were blogging may fit into that mix).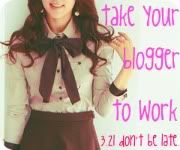 My "job" is not a traditional one. I have what my parents like to call "a pieced-together career." I don't have one 9-5 job, but rather a bunch of little things: contracts, freelance gigs, temporary jobs, part-time work-from-home jobs, and my very own business. When people ask what I do or where I work, I usually say I'm a freelancer or a writer, but it's really hard to fit everything I do under one title like that. I think I need to come up with something really unique and crazy. Any ideas?
This wasn't my original intent for my life. When I was a little girl I wanted to be an artist, which basically meant I wanted to be a painter/photographer/fashion designer/screenwriter/novelist/anything else creative. Except for one year (right after Jurassic Park came out) when I wanted to be a Paleontologist. When I think about it now, I actually use a lot of different creative skills in my work, so it's pretty much perfect, but it's still something I sort of fell into.
I graduated from college a little over a year ago and had every intention of joining the ranks of the 9-5ers. My degree is in journalism and marketing, and I spent quite awhile job hunting, interning, working temporary jobs, and finding out what didn't work for me. What I didn't realize is that I was actually finding out what
did
work for me.
I love absolutely every part about my job right now. Sure, I have off days, but I would not change it for anything. It's untraditional, flexible, creative, fun, and so perfect for me. Here's a run-down of some of my regular gigs (in no particular order):
Running this blog
Running my Etsy shop
Blog design
Writing business profile stories for a local newspaper
Writing ads and special sections for newspapers
Teaching a knitting class at a local middle school
Freelancing for various blogs (usually in the design/tech field)
I have a mile-long to-do list every single day, but I usually get to make my own schedule and I have the satisfaction of being my own boss. I knew it was perfect for me when I realized I actually look forward to Mondays now!
In the future, I'd like to continue doing this "job," but I'd like it to evolve. Right now, I have some contracts that I don't necessarily enjoy, but they give me a better income than the things I do. It's not that any of my tasks are bad or difficult, but one day I'd like to be stable enough from Etsy, my blog, and blog designing to be a little more picky about the extra contracts I take on.
Tomorrow, I'm sharing a "photo an hour" post, where I document what my typical day is like through photos. So if you're curious about how a work-from-home writer/designer/freelancer spends her day, come back and see!
Thanks everyone, for letting me share this with you, and thanks so much to
Gina
for putting this together!! You're fantastic!