Hi everyone! It's time for more randomness this Monday morning! Ready?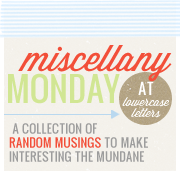 1. I've been hard at work on blog designs for some seriously fabulous ladies. You can
check out
the ones I've done and look into the new pricing/packages I have set up. I seriously love this new gig!
2. My mom just started a
new blog
about her experience with breast cancer. There's not much content just yet, but you should check it out (and follow, maybe?)
3. Remember to
ask me some random questions
for my Q&A post (hopefully going up next week! You can ask them in the comments of this post, if you'd like!
4. I've been stupidly behind on emails. I'm so sorry. Please don't think I'm being rude or ignoring you if you're waiting on one from me. I'm a terrible procrastinator and I'm working my way through the dreaded inbox today.
5. My March Madness bracket got completely destroyed over the past few days. I was in first place going into this weekend, but my top pick, Kansas, just stomped all over my dreams of winning $200 for flipping a coin a bunch of times.
6. I started knitting my costume for the Deathly Hallows release this summer. A little early? you might ask... well, I'm going as Molly Weasley and I'm knitting the ENTIRE ensemble. I take my geekdom seriously.
7. If you want to become a sponsor for this blog during April,
go here
.
8. Everyone should drop what you're doing right now and go buy something from the
Love for Japan etsy shop
. OR you can donate some of your handmade items to the cause. I'm working on getting some listings together today.