I'm going to try this Miscellany Monday thing today, because I feel like I have a lot of random thoughts roaming around my brain, so here it goes...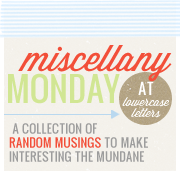 1. I'm thinking about dyeing my hair back to its natural color for awhile. It's red right now (as it usually is), but I'm starting to miss having dark hair. Thoughts?
2. Have you heard of the fun blog project,
30 Days of Lists
? I'm going to participate - I'm writing out all of my lists for week 1 today!
3. I had a fun "girls night" with friends the other night. We did stupid things like slide down the staircase, because that's what we used to do in high school (no alcohol was involved, if you can believe that). We're just silly.
4. I have so many blog posts lined up right now, and so many more that I've been meaning to write - I think I might do two per day this week, just to catch up. What do you think??
5. I'm working on a major
shop
renovation right now. I hate the design and can't decide how I want it to look. I'm also adding lots of new products. Use the code UGLYSHOP for 15% off your order until I get it to look pretty again.
6. Don't forget to enter the
Punkscrapper giveaway
to win a cute bow necklace! Ends in 6 days :)
7. THANK YOU ALL so much for the amazing birthday wishes last week. I felt so loved and got so many wonderful cards and gifts thanks to the
Love and Envelopes birthday club
. I'm going to do another post so I can link up to all the awesome people who sent me birthday love!
8. It's still a bit early, but if you're interested in Advertising with Wattlebird for April at a very discounted rate, you might want to check out
this post
.
...Well that was fun - I think I'll do it again!